Rabari Colony Char Rasta is a Part Of East Of Ahmedabad. Our Clinic Samarpan Physiotherapy Fitness And Rehabilitation Clinic is Located Near. To This Area. From Rabari Colony Char Rasta Towards Vastral Road, Just Before Sureliya Char Rasta.
Our Clinic in Located in Bansidhar Society, Behind Bansidhar Medical Store, Opp.Revabhai Shopping Center, area of Amaraiwadi.
Timing Are : 8am to 12pm Morning Time , 4pm to 8pm Evening Time.
Call For Appointment : Mo : 09898607803 ( Dr. Nitesh Patel ) Mo :
6352845017 ( Dr.Komal Chauhan) , 07285084764
Our Clinic Started in March 27th 2005 Just After Holi Dhuleti Holidays. In 2005 to 2019 We Have 14 Plus Working Experience. Our Experience Physiotherapist Assure You Quality And Result Oriented Physiotherapy Treatment. Home Visit Physiotherapy Treatment Also Available in Ahmedabad.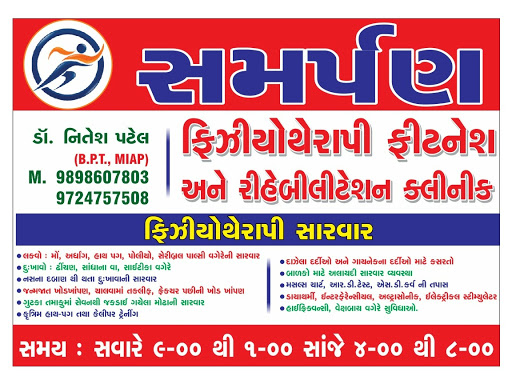 Address : Samarpan Physiotherapy Clinic, Bansidhar Society, B/h.Bansidhar Medical Store , Vastral Road, Ahmedabad.
Map Of Samarpan Physiotherapy Clinic Amaraiwadi Branch :
Home Visit Physiotherapy Treatment Near Amaraiwadi Area Of Ahmedabad :
Home Visit Treatment Required For Those Which Are Unable To Come in Our Clinic Which Are Busy Individuals Or Have Paralysis And Relatives Have Difficulty To Visit Our Clinic Consistently, We Offer Home Visit Treatment At Affordable Fees. We Are Able To Provide Nearly Area Like CTM, Odhav, Rakhial, Maninagar, Rajendra Park Char Rasta, Arbudanagar , Sureliya Char Rasta And Related Area.