Samarpan Physiotherapy Clinic Vastral Branch:
Samarpan Physiotherapy Fitness And Rehabilitation Clinic is Started in 2009 Near Nirant Char Rasta, Vastral Road, Ratanpura Gam Area Of Ahmedabad With Purpose Of Quality And Result Oriented Treatment Near Vastral Area At Affordable Rate. We Have 10 Plus Experienced in Physiotherapy Service , Assure You Quality Treatment.
Home Visit Treatment facility Near Vastral Near Nirant Char Rasta, or Ratanpura Gam area of Vastral. For Paralysis Treatment or Which Are Unable To Come Clinic At Regularly , Home Visit Are Useful. Our Home Visit Service Available Are Mahadevnagar Tekra, Vastral Road, Odhav, Takshila Road, Madhav School Road, Nirant Cross Road, Bapasitaram Chowk And Nearby Area.
For Appointment Please Contact Us:
Samarpan Physiotherapy Clinic,
B-04, Shivalik Bunglow,
Near. Ratanpura Gam, Near. Metro Pillar No. 156
Madhav School Road.
Vastral Road, Ahmedabad.
Dr. Nitesh Patel (Physiotherapist)
Mo : 09898607803
Mo No : 7777976968
( Nearby Area : Near Vedant International Play School, Bhavani Party plot )
Physiotherapist in the clinic:
Dr. Nitesh Patel- Physiotherapist- Mo no: 09898607803
Dr. Falguni Luhar- Physiotherapist
Dr. Srusti Vaghasiya- Physio.
Dr. Payal Patel – Physiotherapist.
Dr. Akhsita Mehta- Physiotherapist.
Dr. Shivani Brahmabhatt- Physiotherapist.
Physiotherapy Treatment is Useful in Joint Pain, Muscle Pain, Knee Pain, Shoulder Pain, Joint Stiffness , Postural Problems Like Kyphosis , Scoliosis Treatment, Paralysis Treatment, Hemiplegia, Paraplegia, Cerebral Palsy, Post Operative Joint Stiffness And Weakness Physiotherapist Are Required.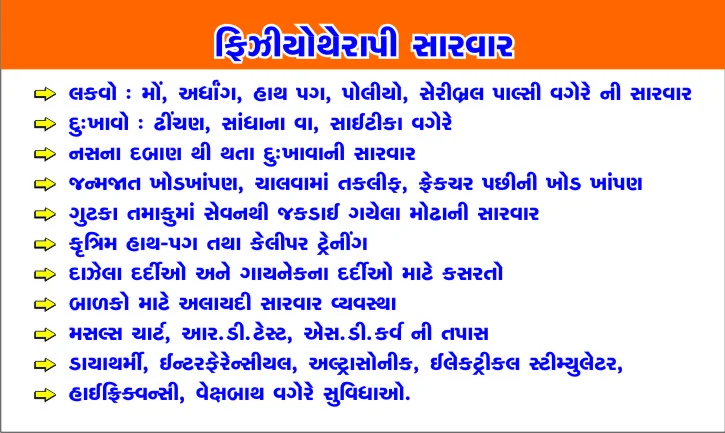 Samarpan Physiotherapy clinic Amaraiwadi branch address:
Bansidhar Society Behind Bansidhar Medical, Vastral Road,
Rabari Colony Cross Road,
near Metro Pillar No 77-78,
Opposite revabhai shopping center
Amraiwadi, Ahmedabad, Gujarat 380026
Nearby location are Sureliya char rasta towards Rabari colony char rasta.
Physiotherapy treatment is a natural way to recover from pain and related condition and there are no any side effects. Physiotherapist uses exercise and various electrotherapy modalities to relieve pain and strengthen your body. If you are looking for Home visit treatment facility you also can contact us, we are providing Home care treatment facility in East Ahmedabad area.
Home visit treatment facility is available in nearby area of Vastral such as Nirant Char Rasta, Odhav, Rabari colony char rasta, Sureliya char rasta, Mahadevnagar tekra, Ramol etc.