MANUAL MUSCLE TESTING [MMT]
INTRODUCTION:
MMT is a most vital part of medical examination
MMT is a procedure for evaluation of strength of indiviual muscle or muscle group,based upon the effective perfomance of a movement in relation to the force of gravity or manual resistance through avaliable range of motion
i.e. How efficiently a muscle is working.
BASIC COMPONENETS OF MOTOR EXAMINATION:
1.nutrition or bulk of muscle
2.tone
3.reflexes
4.range of motion (ROM)
5.manual muscle testing
6.functional assessment
As per Daniels and Worthington's book 'Muscle Testing: Techniques of Manual Examination and Performance Testing', there are two different methods for performing manual muscle testing.
1. Break testing:
in manual muscle testing, is when resistance is applied to the body part at the end of the available range of motion. It's called the break test because when a therapist provides resistance the objective for the patient is to not allow the therapist to "break" the muscle hold.
2. Active Resistance testing:
in manual muscle testing is when resistance is applied through the body part through the available range of motion. This type of manual muscle testing requires skill and experience and is not the recommended practice.
GRADES OF MMT:
1.MRC scale
2.oxford scale
3.kendall scale
4.others
1.MRC SCALE:
2.OXFORD GRADING: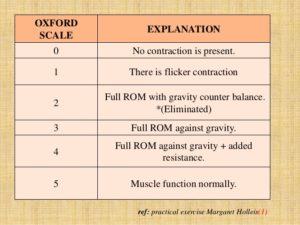 MODIFIED OXFORD GRADING:
(0): No contraction
(1): flicker contraction
(2-):moves through partial ROM gravity eliminated
(2):able to move through full ROM gravity eliminated
(2+):moves through full ROM gravity eliminated with resistance
(3-):partial ROM against gravity
(3):full ROM against gravity
(3+):person hold the position against gravity with slight resistance
(4):full ROM against gravity with moderate resistance
(5):full ROM against gravity with maximum resistance
3.KENDALL SCALE: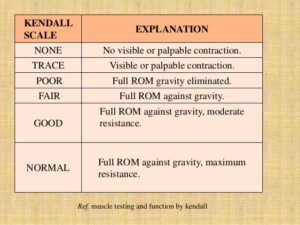 BASIC RULES:
-patient position
-joint position
-check the avaliable passive ROM
-give accurate, audible command and instructions
-demonstrate the desired movement
-check the strength of normal side first
-do not change patients position repeatedly
-always start with grade 3 i.e. against gravity movement
HAND PLACEMENT:
PROXIMAL HAND:
Aat origin of muscle and proximal joint giving stabilization.
DISTAL HAND:
distally offering resistance or assistance depending upon perfomance.
APPLICATION OF RESISTANCE:
-resistance is applied slowly and gradually.
-increasing or decreasing manual resistance.
-increasing or decreasing the length of weight arm.
example:-with the patient in prone position a known resistance is given at the level of knee joint is more easily overcome by hip extensors than if it is applied at foot.
CONTRAINDICATIONS:
-If motion to the joint will cause further damage or interrupt the healing process immediately after injury or surgery.
-Therapist suspects subluxation (partial dislocation), dislocation or fracture.
-If myositis ossificans (pieces of bone in the muscle) or ectopic ossification (pieces of bone forming in the tissue) is suspected or present, AROM and PROM should not be undertaken without first ensuring the patient is assessed by a professional who has expertise.
-If inflammation is present in the region.
-Presence of inflammatory neuromuscular disease (Guillain-Barre, polymyositis, dermatomyositis).
-For patients with severe cardiac or respiratory disease or disorders associated with acute symptoms.
-In the presence of pain. Pain will inhibit muscle contraction and will not give an accurate indication of muscle strength. May also cause further injury.
PRECAUTIONS:
-In painful conditions.
-In the presence of an inflammatory process in a joint or the region around a joint.
-In patients taking medication for pain or muscle relaxants, because patient may not be able to respond appropriately and movement may be preformed to vigorously.
-In the presence of marked osteoporosis or in conditions where bone fragility is a factor, perform PROM with extreme care or not at all.
-In assessing a hypermobile joint.
-In patients with hemophilia.
-In the region of a hematoma, especially at the elbow, hip, or knee.
-In assessing joints if bony ankylosis (bones fused together) is suspected.
-After an injury where there has been a disruption of soft tissue (tendon, muscle, ligament).
-In the region of a recently healed fracture.
-After prolonged immobilization of a part.
UPPER EXTRIMITIES
-Shoulder Flexion
-Shoulder Extension
-Shoulder Abduction
-Shoulder Horizontal Adduction
-Scapula Elevation
-Scapular Retraction/ Adduction
-Elbow Flexion
-Elbow Extension
-Wrist Flexion
-Wrist Extension
LOWER EXRIMITIES:
-hip flexion
-hip extension
-hip abduction
-hip adduction
-hip internal rotation
-hip external rotation
-knee flexion
-knee extension
-ankle dorsiflexion
-ankle planterflexion
-ankle inversion
-ankle eversion