osteoarthritis:
degenerative joint disease or degenerative arthritis, osteoarthritis (OA) is the most common chronic condition of the joints.
Osteoarthritis is a joint inflammation that results from cartilage degeneration.
Osteoarthritis can be caused by aging, heredity, and injury from trauma or disease.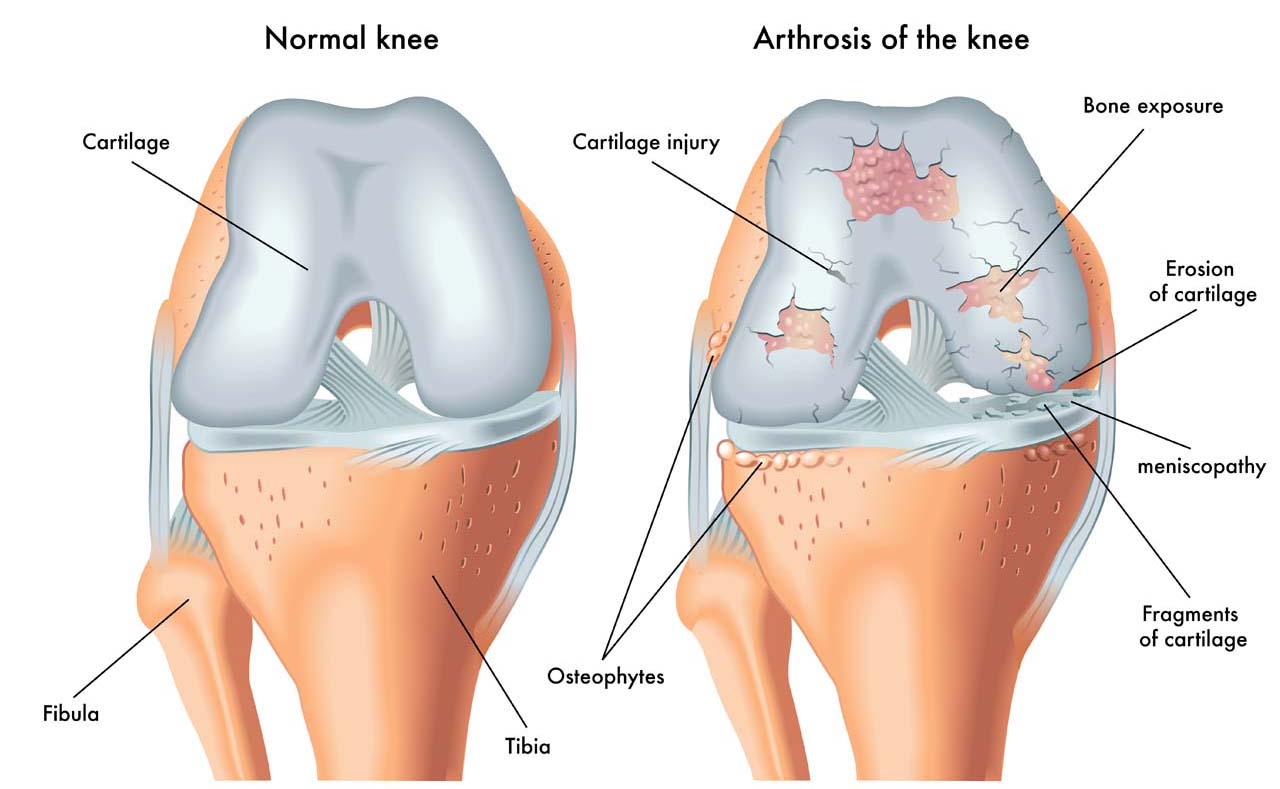 cause:
Osteoarthritis occurs when the cartilage that cushions the ends of bones in your joints gradually deteriorates.
Cartilage is a firm, slippery tissue that permits nearly frictionless joint motion.
In osteoarthritis, the slick surface of the cartilage becomes rough. Eventually, if the cartilage wears down completely, you may be left with bone rubbing on bone.
Heredity
Repetitive stress injuries.
sign & symptom:
The most common symptom of osteoarthritis is pain in the affected joint(s) after repetitive use. Other osteoarthritis symptoms and signs include
swollen joints,
joint stiffness,
joint creaking,
loss of range of motion,
Tenderness,
Stiffness,
Loss of flexibility. You may not be able to move your joint through its full range of motion.
Grating sensation. You may hear or feel a grating sensation when you use the joint.
Bone spurs. These extra bits of bone, which feel like hard lumps, may form around the affected joint.
Risk factors:
Older age. The risk of OA increases with age.
gender: Women are more prone to develop osteoarthritis.
Obesity: over body weight puts extra stress on weight-bearing joits.
Joint injuries
Bone deformities. Some people are born with malformed joints or defective cartilage, which can increase the risk of osteoarthritis.
Complications
Some people are no longer able to work. When joint pain is this severe, doctors may suggest joint replacement surgery.
Investigation:
X-rays:
which can show bone and cartilage damage as well as the presence of bone spurs

MRI scans:
MRI scans may be ordered when X-rays do not give a clear reason for joint pain.
X-rays suggest that other types of joint tissue could be damaged.
blood tests: to rule out other conditions that could be causing the pain, such as rheumatoid arthritis
Physiotherapy treatment:
Thermotherapy
Electrotherapy
Transcutaneous electrical nerve stimulation.TENS is a stimulation that uses electrical currents, which are applied directly to the skin and surrounding the knee.
Ultrasound
IFT
SWD
External Support Devices
Braces:
There are various types of braces
"Rest" braces: are not advised due to weakening of the quadriceps muscle.
Knee sleeves: maintain warmth and compression.
knee joint exerciece