Cervical Spondylosis:
Cervical spondylosis is degeneration of the bones in the cervical vertebrae.
the disks between them, putting pressure on the spinal cord in the neck, it leads to tingling numbness in hand
Cervical spondylosis is very common and worsens with age.
More than 85 percent of people older than age 60 are affected by cervical spondylos.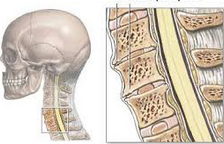 cause:
age: the bones and cartilage that make up your backbone and neck gradually develop wear and tear.
These changes can include:
Dehydrated disks: By the age of 40, most people's spinal disks begin drying out and shrinking.
Herniated disks:Age also affects the exterior of your spinal disks.
Stiff ligaments: Ligaments are cords of tissue that connect bone to bone.Spinal ligaments can stiffen with age, making your neck less flexible.
Symptoms
Most people with cervical spondylosis don't have significant symptoms.
If symptoms do occur, they can range from mild to severe and may develop gradually or occur suddenly.
One common symptom is pain around the shoulder.
Patients will complain of pain along the arm and in the fingers.
tilting your neck backward
if Muscle weakness occur then become hard to lift the arms or grasp objects firmly.
Signs:
a stiff neck that becomes worse
headaches that mostly occur in the back of the head
tingling or numbness that mainly affects shoulders and arms, although it can also occur in the legs
Inability to fully turn the head or bend the neck.
Investigation:
X-rays: it can be used to check for bone spurs and other abnormalities.
CT scans: it can provide more detailed images of your neck.
MRI: which produces images using radio waves and a magnetic field, helps to locate pinched nerves.
myelogram:a dye injection is used to highlight certain areas of your spine.
electromyogram (EMG):it is used to check that your nerves are functioning normally when sending signals to your muscles.
EMG measures your nerves' electrical activity.
nerve conduction study: it is used to check the speed and strength of the signals your nerves send.
This is done by placing electrodes on your skin where the nerve is located.
Physiotherapy treatment:
Immobilization of the cervical spine is the mainstay of conservative treatment for patients with severe cervical spondylosis with evidence of myelopathy.
Immobilization limits the motion of the neck, thereby reducing nerve irritation.
Soft cervical collars are recommended for daytime use only.
A program of isometric cervical exercises may help to limit the loss of muscle tone .
Mechanical traction:
it is a widely used technique. This form of treatment may be useful because it promotes immobilization of the cervical region and widens the foraminal openings
The use of cervical exercises has been advocated in patients with cervical spondylosis.
Isometric exercises are often beneficial to maintain the strength of the neck muscles.
Neck and upper back stretching exercises.
Passive modalities generally involve the application of short wave diathermy in the cervical region
Manual therapy:
massage, mobilization, and manipulation, may provide further relief for patients with cervical spondylosis.
Manual traction may be better tolerated than mechanical traction in some patients.
Manipulation is characterized by a high-velocity thrust, which is often delivered at or near the limit of the ROM.