Cerebeller Ataxia
Acute cerebellar ataxia (ACA), also known as cerebellitis,
Itis a disorder that occurs when the cerebellum becomes inflamed or damaged.
The cerebellum is the area of the brain responsible for controlling gait and muscle coordination.
It is a term used to described certain behavior like postural unsteadiness, difficulty in co coordinating movements & clumsiness experienced by an individual with cerebellar dysfunction.
causes:
Viral infections that may cause this include chickenpox, Coxsackie disease, Epstein-Barr, and echovirus.
bleeding in the cerebellum
exposure to mercury, lead, and other toxins
bacterial infections, such as Lyme disease
head trauma
CNS vasculitis, multiple sclerosis
etiology:
Developmental abnormality e.g. Hydrocephalus, Arnold Chiari Malformation
Trauma, focal lesion
Stroke, tumour, infection
Demyelinating disease like MS
Degenerative disease
Heriditary (Fredriech's ataxia)
Metabolic disease (B12 defficiency)
Vascular disease
Drug intoxication or exogenous substance (ethanol causes reversible cerebellar & vestibular ataxia)
clinical presentation: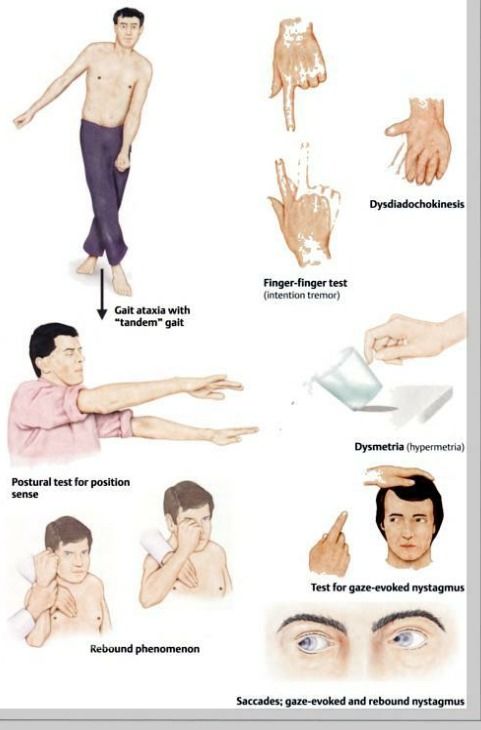 Hypotonia
Dysmetria
Dysdiadokokinesis
Tremor
Movement decomposition
Ataxic gait
Scanning speech
Asthenia
Rebound phenomena
Dysarthria/ scanning speech
Nystagmus (Central nystagmus)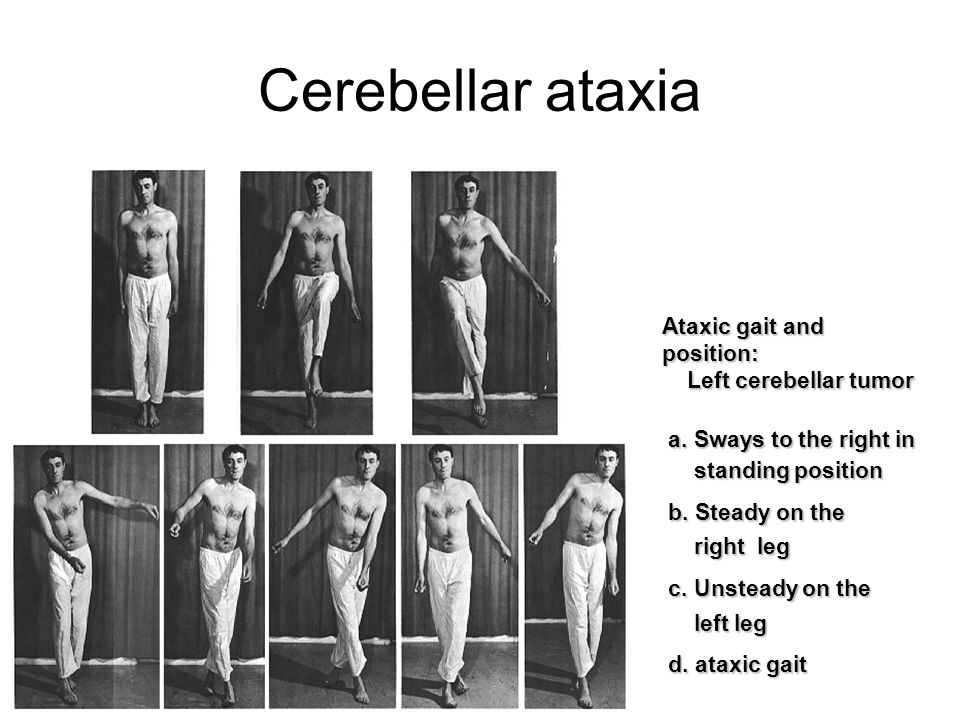 Investigation:
MRI or CT scan – to determine whether there is any brain damage.
Cerebellar atrophy
Cerebellar tumour
Cerebellar infarction
Tonsilar invagination & hydrocephalus
Arnold chiari malformation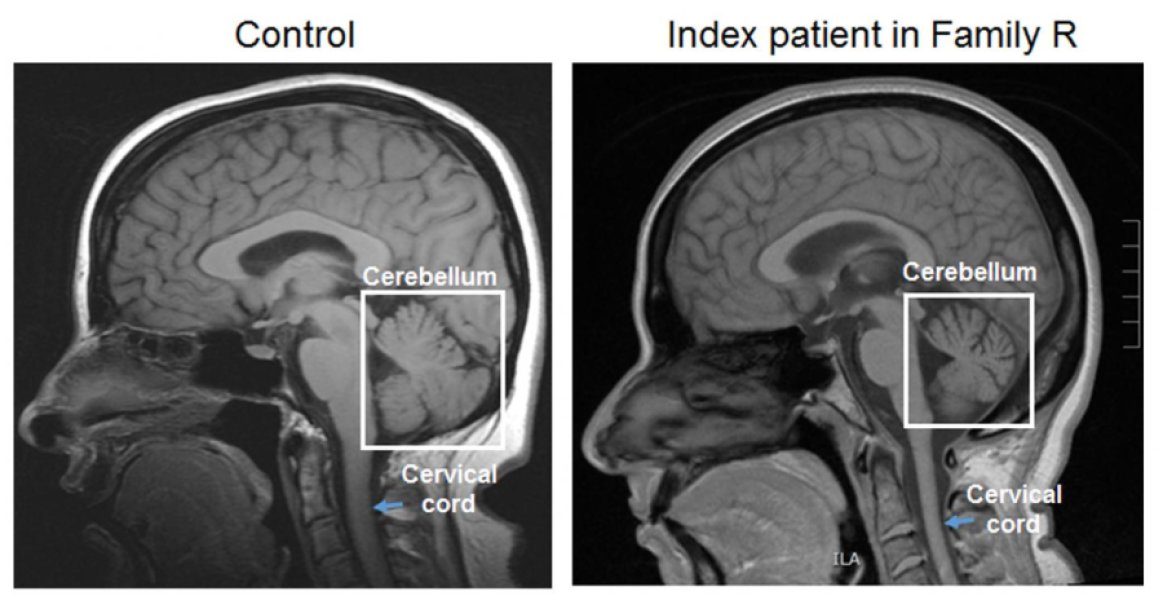 Genetic tests – to determine whether the patient has inherited ataxia.
Blood tests – some types of ataxia affect the make-up of blood.
Urine tests – urinalysis may suggest specific systemic abnormalities that are linked to some forms of ataxia.
If the specialist suspects Wilson's disease, the patient may be asked for a 24-hour urine collection to determine how much copper is in the system.
Physiotherapy treatment:
Relaxed passive motion
General rocking movement
Relaxed positioning
Deep breathing exercise
PNF technique
Relaxation techniques
AROM ex & other free ex
Gait training
Lengthen stride length
Concentrate on heel to toe pattern , Improve arm swing
Parallel bar activities
Walk on printed foot prints
Marching on spot with arm swing
Walking in straight line
Walking in circle
Walking sideways with outstretch hand
Ataxia management
Promote accuracy of limb movements by using aids, cues & feedback
Combined activities of the trunk & limbs to improve co ordination, balance & automaticity of movement
Frenkels exercise
Small weight cuffs, ankle & wrist bands can be used during activities to increase awareness of the limbs
Weight bearing exercise of UL & LL