Bicipital Tendinitis :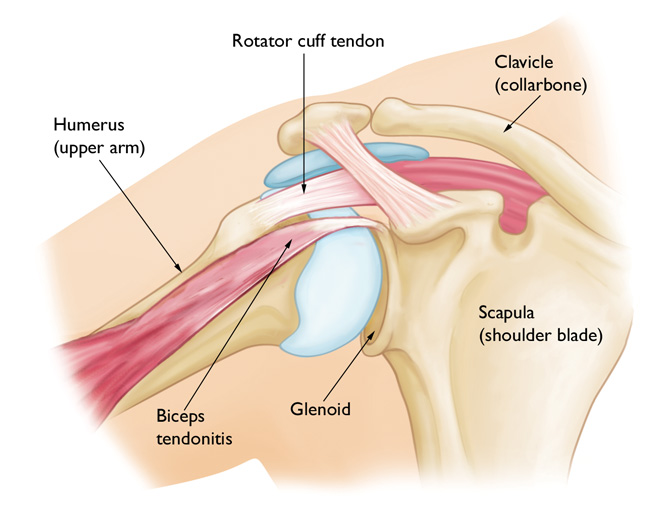 it is a inflammation of the tendon around the long head of the biceps muscle.
it is also known as biceps tendinitis or tendinosis.
cause:
1. Repetitive overhead movements.
2. Poor movement mechanics and posture.
3. Weakness in the rotator cuff.
4. Age-related changes.
5. Abrupt increase in upper body exercise routine.
it caused by degeneration of tendon due to overheadd motion or by aging process.or due to any other pathology of the shoulder.
Inflammation of the biceps tendon within the bicipital groove is called primary biceps tendinitis, which o ccurs in 5 percent of patients with biceps tendinitis.
The 95 percent of patients without primary biceps tendinitis usually have an accompanying rotator cuff tear or a tear of the superior labrum anterior to posterior,
known as a SLAP lesion.
Secondary impingement may also be caused by soft tissue labral tears or rotator cuff tears that expose the biceps tendon.
etiology:
Pathology of the biceps tendon is most often found in patients 18 to 35 years of age who are involved in sports, including throwing and contact sports,swimming,gymnastics,and martial arts.
These patients often have secondary impingement of the biceps tendon, which may be caused by scapular instability,shoulder ligamentous instability, anterior capsule laxity, or posterior capsule tightness.
sign & symptoms:
Patients with biceps tendinitis often complain of a deep, throbbing ache in the anterior shoulder.
The pain is usually localized to the bicipital groove and may radiate toward the insertion of the deltoid muscle, or down to the hand in a radial distribution.
Pain from biceps tendinitis usually worsens at night, especially if the patient sleeps on the affected shoulder.
Repetitive overhead arm motion, pulling, or lifting may also initiate or exacerbate the pain.The pain is most noticeable in the follow-through of a throwing motion.
Instability of the tendon may present as a palpable or audible snap when range of motion of the arm is tested
investigation
MRI: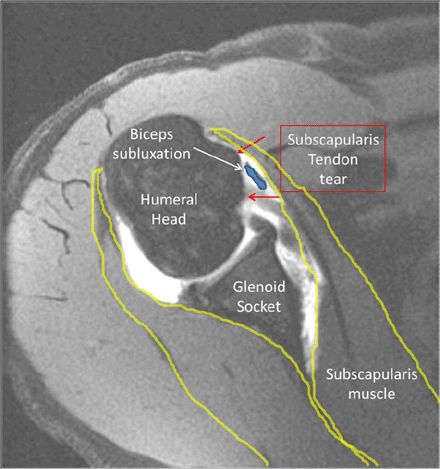 test:
Yergason test,
Neer test
Hawkins test
Speed tests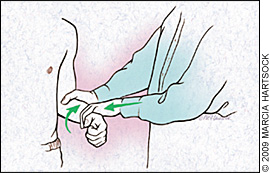 Ultrasonography:
itis a good way to evaluate isolated tendinopathy extra-articulary.
physiotherapy treatment:
GOAL:
1 :REDUCE IMFFLAMMATION
2 :GAIN ROM
3 :BUILT STRENGTH
4 :FUNCTIONAL TRAINING
modalities have mainly been aimed at controlling this inflammation.
modalities like ultrasound , infra red rediation , short wave diathermy,transcutaneous electrical nerve stimulation (TENS) can be used.
deep friction massage is also very helpful to reduce sign and symptoms.
The treatment included rest, nonsteroidal antiinflammatory medications (NSAIDs), and periodic local corticosteroid injection.
Patients should apply ice to the affected area for 10-15 minutes, 2-3 times per day for the first 48 hours.
Nonsteroidal anti-inflammatory drug such as ibuprofen, are used for 3-4 weeks to treat inflammation and pain.
Passive ROM
Active-Assisted Range of Motion (AAROM)
mobilization.
Painful activities such as abduction and overhead activities should be avoided in the early stages of recovery as it can exacerbate symptoms.
Once a pain free range of motion is achieve, a strengthening program should begin with emphasis on the scapular stabilizers, rotator cuff and biceps tendon.
stretching exercises of the scapula, rotator cuff, and posterior capsule.
The goal of stretching is to regain a balanced range of motion without stiffness or pain in any position.
Surgical management of biceps tendinitis includes removing the long head of the biceps tendon via arthroscopic tenodesis.